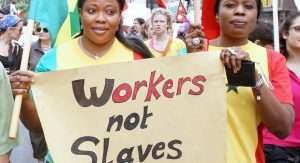 Since TVC News broke the exclusive story about three Nigerian girls who reached out to us to tell their story working as live-in domestics in different Homes in Lebanon, there have been a series of developments.
The Nigerian embassy in Beruit has reacted and is at the moment liaising with several agencies here and in Lebanon to apprehend and arrest anyone connected to this business including the employers who violate the girls and subject them to inhumane conditions
The Force Public Relations Officer, Frank Mba told TVC News earlier today that the police is working to track down Nigerian agents .
As the investigation continues , the embassy in Lebanon has advised Nigerians who visit the country to register with the embassy on arrival, be weary of offers for lucrative jobs and ensure that travel documents are legitimate.
One of the victims has again contacted TVC News and alleges that her employer has again raped her and fears that she may be pregnant.
TVC News is staying with this story and will bring you updates as the investigation progresses.