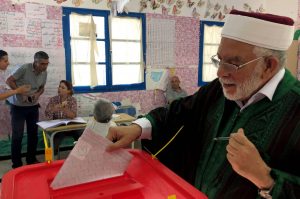 Tunisia's moderate Islamist Ennahda party has won most votes in Sunday's parliamentary election.
The poll showed Ennahda with 17.5% of the vote and its main rival, the Heart of Tunisia party of detained media mogul Nabil Karoui with 15.6% of the vote.
Both Ennahda and Heart of Tunisia had earlier claimed victory in the election. The two parties have ruled out working in any coalition that contains the other
Ennahda's projected vote share translates into only about 40 seats, with 109 needed to form a majority.
Advertisement