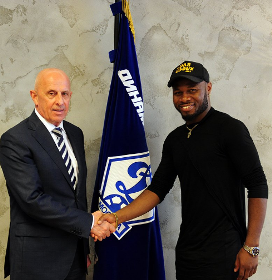 Russian Premier League club Dynamo Moscow have announced the signing of Nigeria international Sylvester Igboun from rivals FC Ufa.
The striker will be spending the remainder of the 2019-2020 season on loan at Dynamo Moscow.
Igboun joined Ufa in the summer of 2015 where he scored 25 goals in 108 matches.
Commenting on his transfer to Dynamo Moscow, he told the club's official web page :
"From the very first moment I felt at home in Dynamo. I was well received, showed great interest. Glad to be here. I will try to prove myself in the best way.