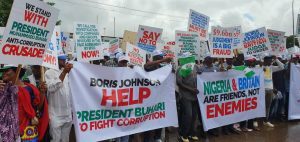 The Coalition of Civil Society Groups has alleged that the awarded 9.6 billion dollar judgment debt against Nigeria over a gas contract is a
calculated attempt by international and local scammers to deplete the country's rising foreign reserves.
Protesting at the British embassy, the Coalition says that 9.6 billion dollar (about N3.5 trillion) translates to 20 per cent of the nation's foreign reserves.
The protesters baring placards with various inscriptions, are going to be occupying both the British High Commission and Irish Embassy for one week.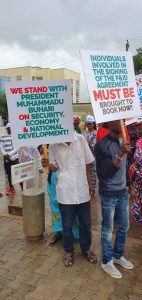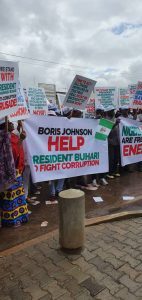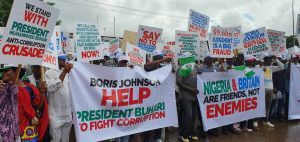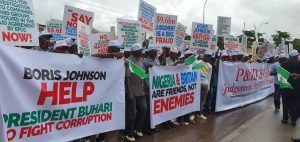 The group had last week in a statement by Ibrahim Abubakr, its secretary-general, described the judgment as "fraudulent", saying: "those behind this huge corruption must be brought to justice".
"The president has directed that all Executive members and affiliated organizations from all states should return back to Abuja for a national duty that will be taken place on 2nd of September, 2019," the statement read.
"You are hereby directed to be in Abuja latest on the 1st of September for the 2nd of September, 2019 protest during which we will occupy British Embassy and Irish embassy for one week with a call for reversal of the $9.6bn fraudulent judgment by UK court instituted by P&ID Irish company against our beloved nation."
Abubakar Malami, attorney-general of the federation (AGF), had said Nigeria's deal with P&ID was designed to fail.
Malami explained that deal was between the P&ID and the ministry of petroleum resources which does not produce gas.
He added that those who entered into deal on behalf of the country subjected Nigeria to "economic sabotage."