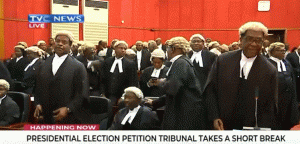 The Presidential Election Petition Tribunal is on a short break at the judgement on the petition filed by the presidential  candidate of the PDP, Atiku Abubakir challenging the declaration of President Muhammadu Buhari as winner of the presidential election conducted on the 23rd of February.
The presidential candidate of the PDP in the 2019 presidential election challenged the victory of President Muhammadu Buhari as the winner of the election.
The petitioner alleged that the president' was not qualification to contest the election, which was marred by malpractices, alteration of election
results and violence amongst others.
To establish his petition, during the hearing he called 62 witnesses and tendered several documents and video clips before the tribunal, while president Buhari called 7 witnesses and also tendered documents to prove that he genuinely won the election.
In the final address presented by his lead counsel, Mr Atiku drew the attention of the Tribunal to a portion of the President's INEC form where he claimed to have three different certificates; comprising Primary School leaving certificate, WAEC certificate and Officers Cadet certificate.
The petitioners said "No Provisional certificate, no certified true copy of the certificates, no photocopy of certificates and no electronic version of any of the certificate's was presented by the president throughout the hearing of the petition to dispute the claim of the petitioners.
Mr Atiku therefore urged the tribunal to nullify the participation of president Buhari in the election on the grounds that he lied on oath to secure qualification for the election.
bUT One of the President's witnesses, Major General Paul Tafa, who joined the Nigerian Army with him in 1962 told the tribunal that they were never asked to submit their certificates to the Nigerian Army Board as claimed by the president in his form.
The PDP presidential candidate also faulted the claim of INEC that it has no central server.
Mr Atiku's lawyer in the final address refuted the claim of INEC that collation and transmission of results electronically was prohibited by law
in Nigeria.
In his defence, President Buhari through his counsel argued that petition was liable to be dismissed because it is lacking in evidence, merit and substance and that the petition is ill advised and signified nothing.
He cited section 131 of the Constitution which stipulated a minimum of secondary school attendance to qualify for election in Nigeria.
He added that the president cannot go beyond that and that he does not need to tender or attach certificates before he can get qualification for any election.
The APC in its own submission held the petition lacked quality evidence that could warrant the nullification of the election.
On these grounds, the tribunal considered its judgment.