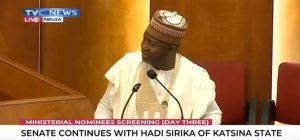 In less one hour, senators will return to the chamber to resume the screening of those nominated for ministerial positions by President Muhammadu Buhari.
Two nominees, Abubakar Malami from Kebbi state and Hadi Sirika from Katsina, both returning ministers, appeared before the senate earlier today.
They were both questioned by senators with issues from their previous portfolios in Judiciary and Aviation.
By the end of Thursday, twenty four nominees have faced the senate to justify their inclusion in the yet to be inaugurated cabinet.
At Thursday's screening,  some nominees who may not have qualified for what the senate refers to as "take a bow and go", were allowed to benefit from the perceived privilege.
Nineteen more ministerial nominees would have to go through the screening process before they are either confirmed or rejected.
Among those to appear before the senate today are Goody Jeddy-Agba (Cross River), Dr Osagie Ehanire (Edo), Suleiman Adamu (Jigawa), Hadi Sirika (Kaduna).
Others are, Abubakar Malami from Kebbi state, Gbemisola Saraki from Kwara state, Mrs Paulen Talen from Plateau state and Muhammadu Dingyadi representing Sokoto state.