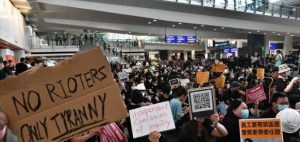 Hong Kong airport staff have begun an 11-hour protest against the government and police.
They are holding the government accountable for the violent attacks by suspended gangs in Yuen Long last week.
The airport staff were joined by demonstrators dressed in black.
Protesters held up signs designed to look like customs notices and played tongue-in-cheek audio messages resembling in-flight safety instructions.
Friday's demonstration against the government and police, who have been accused of colluding with triads organised crime groups to suppress protests, was also aimed at urging international visitors to pay attention to Hong Kong