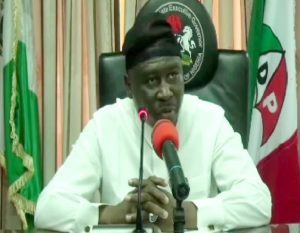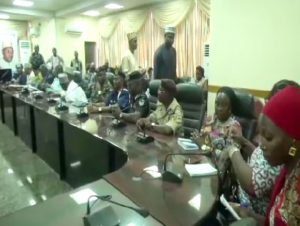 Governor of Adamawa state Ahmadu Fintiri says his administration will put a repatriation committee on ground to facilitate the return of four thousand indigenes taking refuge at various camps in Cameroon.
Adamawa borders the Republic of Cameroon and is one of the States in the north east badly affected by Boko Haram activities.
Many of its residents fled to neighbouring Cameroon when seven local governments were captured by the outlaws in 2015.
The state is now ready to reintegrate its citizens presently taking refuge in the republic of Cameroon.
Addressing the Group for repatriation, Governor Fintiri said the government would constitute a technical committee to support the refugees on their return home.
The Head of the delegation Sadiya Umaru Farouq explained that the visit is to intimate Governor Fintiri on plans to soon start the repatriation of the Adamawa refugees
She appealed to the state to give necessary support and assistance for the success of the exercise.
Some residents in an interview with Tvcnews want the state to make adequate provisions for the returnees to enable them pick up the pieces of their lives
The challenge ahead of the refugees, is how to start living again since some of the affected communities are not fully safe with Boko Haram fighters still launching occasional attacks.