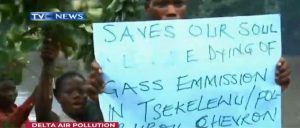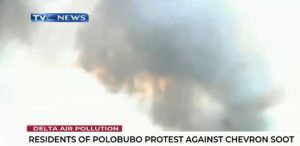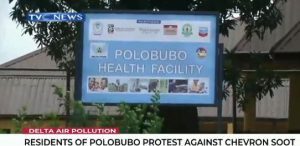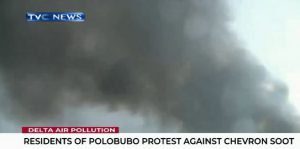 Residents of Polobubo community in Delta state are protesting against the heavy soot coming out from the burning Chevron well.
They say it has caused untold health havoc on them and their environment.
They are calling on the federal government and all relevant agencies to intervene.
The Polobubo Community is a riverine community in Warri North Local Government Area.
It has lots of oil facilities in it. It is not new to pollution resulting from the activities of Oil companies.
The burning Chevron Oil Well head has  been blazing since 18th of April but exacerbated two days ago as it started emitting soot which has been raining on the people.
The women of the community say they have had enough of it and are taking their protest to the Production Facility of the Chevron since nothing has been done to the more than six-week old fire.
Chevron had in the past issued a statement saying that the well head was vandalised and they are doing their best to put the fire out