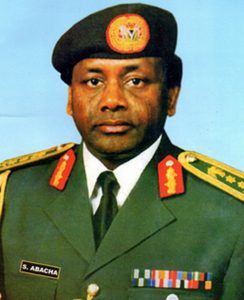 Today, 8th of June, marks twenty one years after the death of Nigerian Head of State, General Sani Abacha, and some residents of Kano, the military ruler's home state, said the legacies he left behind were not all bad.
TVC News Correspondent, Ibrahim Isah reports that former military ruler, General Sani Abacha died on the 8th of June 1998 and again the anniversary of his death is coming at a time another tranche of money, allegedly stashed away by him in a foreign account was just discovered
A bank account containing £211m (approximately N82bn) was traced to the former Nigerian military dictator.
The money was recovered and subsequently confiscated in Jersey, Channel Islands, on the request of the United States of America Government
But not all people believe that Sani Abacha should be judged solely by how he mismanaged the country's funds, stashing away monies that have come to be referred as "Abacha loot"
Kabiru Sufi, a resident of Kano, is a political affairs analyst and is one of those who has an opinion that differs from that of many Nigerians
He attempts to answer the question: Who is General Sani Abacha? Mr Sufi believes General Sani Abacha wouldbe remembered for his
achievements in the areas of Infrastructure, Education and above all security. But Kabiru Sufi admits General Abacha would be remembered for some of his flaws.
Late General Sani Abacha was born on the 20th of September 1943 and died 8 June 1998. He was a Nigerian Army officer who served as the de facto Head of State of Nigeria from 1993 until his death in 1998.
He is also the first Nigerian soldier to attain the rank of a full star General without skipping a single rank. Abacha is largely commended for his economic reforms and achievement.
Residents of Kano believe the Nigerian Head of State would be remembered as a divisive figure in the history of Nigeria.