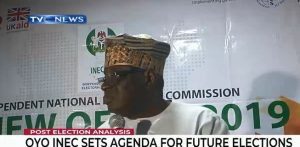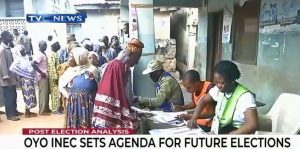 The Independent National Electoral Commission in Oyo State says it is working to improve on the successes achieved during the recently concluded general election.
Resident Electoral Commissioner Mutiu Agboke spoke in Ibadan during a workshop organised for its employees.
Elections in Oyo state have come and gone but the sore memories of the exercise remain fresh in the minds of electoral officers here.
Advertisement

A lot of intrigues characterised the recently concluded polls which saw the opposition peoples democratic party wrest power from the then ruling All Progressives congress.
From threats, blackmail and everything in between, it was all about the struggle for political power.
National Electoral Commissioner in charge of Ekiti, Oyo and Osun states Adedeji Shoyebi lauded INEC for the smooth conduct of the recently concluded elections. He emphasised that adopting the technological approach was key to making more successes of future elections.
In addition,the electoral body hinted that it had received valuable reports from domestic and foreign observer missions and would act accordingly.