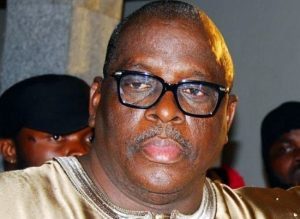 A federal high court in Abuja has adjourned hearing in the suit filed by Senator Buruji kashamu, in which he is trying to stop the federal government from extraditing him to the United States, for trial on alleged drug trafficking.
The Former Attorney-General of the federation Justice Mohammed Adoke, had filed a extradition application on 28th, May 2015 for a governorship candidate of the Peoples Democratic party in Ogun State, Senator Buruji Kashamu upon a request by the United States.
The foreign nation, in its request, had asked the Nigerian government to surrender Mr Kashamu for prosecution on a one count drug related offence pending against him before the United States District Court of Northern Illinois, Eastern Division.
When the matter came up, counsel to Mr buruji, John Odubela informed the judge that the matter which borders on fundamental human rights was up for hearing and that he was surprised that the Attorney General of the Federation was not in Court
Counsel to the National Drug law Enforcement Agency, puis Gande told the court that the case was transferred from justice Ahmed Mohammed to the new court and that the AGF was not notified of the transfer and was not issued with a hearing notice.