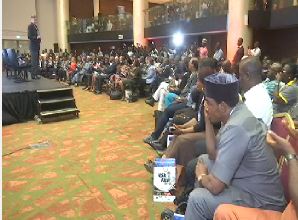 As the trade war between United states and China deepens, the United states of America is set to improve trade relations with Africa's most populous nation Nigeria.
Hundreds of exhibitors, manufacturers and business dealers are in Lagos for the USA fair 2019.
Business correspondent, Tolulope Ogunjobi  reports that Nigeria's trade with United states of America rose to 1.41 billion dollars through the first three months of 2019.
According to the latest report from the US census bureau Nigeria's export increased by 12.95 percent while import fell 59.76 percent.
The united states of America is seeking ways of improving this trade balance as it sees Nigeria as an important trade partner.
The united states of America's trade fair 2019 is a multilateral event which presents new to market and existing US companies with an opportunity to explore the potentials within the Nigerian market.