Nigerian afrobeats star Tiwa Savage's first tweet on the second of May had a picture of her and Lucian Grainge, the chairman and Chief Executive Officer of Universal Music Group, one of the world's 'Big Three' record labels.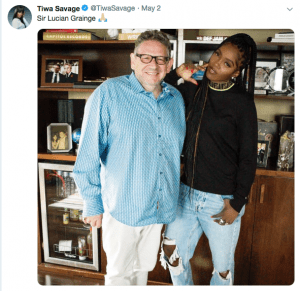 Savage had just signed a deal with the music group and wanted the world to know. About an hour later, Don Jazzy, the owner of the music label to which she had been signed for seven years tweeted, "Standing ovation for Queen T. Love you always". He then posted a celebratory note on his Instagram handle, and wished her well.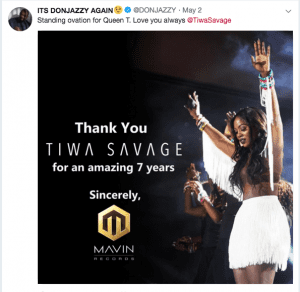 Advertisement

That is unusual of Nigerian artistes and their record label bosses when they part ways.
When Brymo left Chocolate City after the release of his first album, the company accused him of breaching a five-year contract that required him to release three more albums. He left after just two years and claimed Chocolate City withheld royalties on his album, Son of A Carpenter. The label took him to court and wanted a 100 million naira as damages.
Kizz Daniel (then known as Kiss Daniel) was one of Nigeria's fastest rising music artistes when he announced his split from G-Worldwide, the record label he had been signed to. The label sued him for illegally terminating a 7-year recording and artiste management contract, four years into the deal. There was also a court case but Daniel was not found guilty of any of the crimes he was accused of.
Wizkid also tried to end his contract prematurely with record label EME but was stopped by the threat of  a legal action.
Advertisement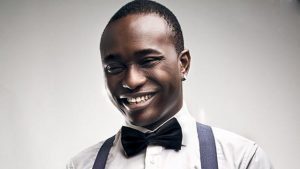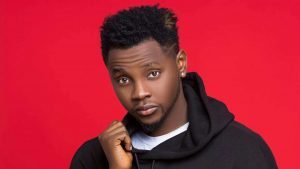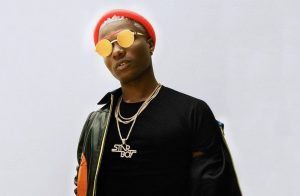 Entertainment analysts believe the reason for many record deals ending in disagreements is the way 360 record deals work in Nigeria. Most artistes start out as raw talent without the money to promote themselves.
Labels that pay for everything from studio time, music videos, and publicity promote them. In return the record labels take a great percentage of the monies the artistes make from sales, concerts, and endorsements. As these artistes become popular, they demand a new deal, which gives them greater control over the revenue they make for their labels. This is where trouble starts.
Wizkid reportedly entered into a deal with EME in 2013 which gave the label 50% of whatever he makes, a label-appointed manager takes 25% and the artiste goes homes with the remaining 25%. His request for a change in the sharing formula led to the disagreement with the label.
Advertisement

The cases of Brymo, Kizz Daniel, and Wizkid explain why many Nigerians hailed the decision for Tiwa Savage and Mavin Records to part ways without any threat of legal action.
Many people on social media praised Mavin Records founder and CEO Don Jazzy for the warm farewell message he sent to Tiwa Savage.

Advertisement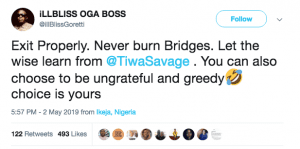 Many new artistes still depend on labels to start out in the industry, but a number of the established ones are breaking out and starting their own labels, which promote them, and in many cases, other artistes too.
Wizkid has Starboy Entertainment and Kizz Daniel has FLYBOY I.N.C. They seem to have been emboldened by the success of Davido, who chose to not sign for a label when he started his music career. He is now one of Nigerian music's biggest stars.
Advertisement