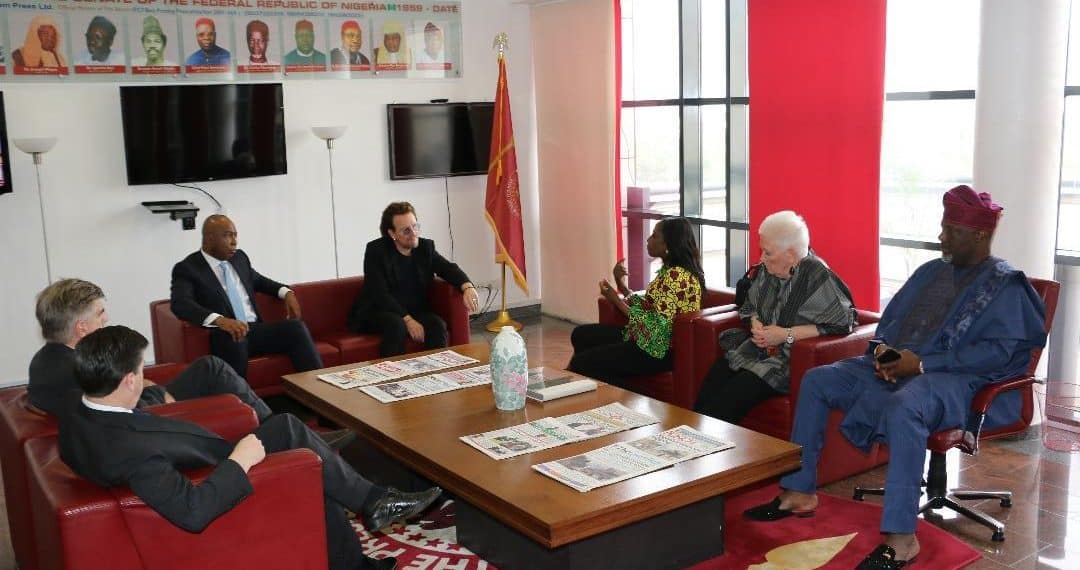 The co-founder of the one campaign and lead singer of the Irish multi award winning rock band, U2, said that the approval of the one percent
consolidated revenue fund for primary health care is something that is good for the lives of the people.
Paul Hewson who is better known as Bono, made this declaration a few days ago during a short visit to Nigeria.
TVC's Kemi Balogun reports that the Abuja declaration of 2001 which led to the signing of national health in 2014, sets aside 1 percent of consolidated revenue fund as part of the basic health care provision fund.
50 percent of it goes into the national health insurance scheme (NHIS) 45 percent goes into the national primary health care development agency, leaving about 5 percent as emergency fund utilized by the Nigeria's ministry of health.
The recent visit of the co-founder of one campaign and former lead singer of the Irish multi award winning rock band U2 Paul Hewson was to commend the Nigerian government for the inclusion of the 1 percent consolidated
revenue fund into the 2018 appropriation budget.
Bono had paid separate visits to Vice President Yemi Osinbajo and the Senate President Bukola Saraki where he had given his thoughts on the issue of primary healthcare
The country director of one campaign says all these gateways are key to having a stronger health care system in Nigeria.
This is the first step to getting closer to revamping Nigeria's health care system especially from the rural areas.
The One Campaign is confident this amount would enable the federal government provide and fund quality and basic health care services for the benefit of Nigerians when the 2018 appropriation bill becomes law.
The private partners who make their own contributions will sustain and manage it.