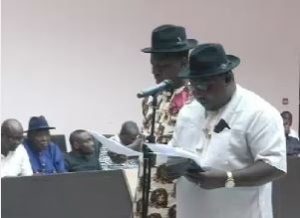 Bayelsa State Governor, Seriake Dickson has increased the capacity of his cabinet, to drive the development of the state with the swearing-in of two new commissioners and a special adviser.
Governor Dickson said the whole essence of governance is service to the people, reward for commitment to duty and the stability of the polity.
Correspondent Ovieteme George reports that Victor Okubonanabo and Stanley Braboke are the new members of the Bayelsa
State Executive Council.
They took the oath-of-office as commissioners at a function which also witnessed the inauguration of Williams Alamene as Special Adviser to the
Bayelsa Governor.
The new members of the highest decision-making body of the state express readiness to serve and promote the ideas of the Seriake Dickson
administration.