Labour unions in Osun state joined their counterparts across the country to demand for the implementation of 30,000 Naira new minimum wage.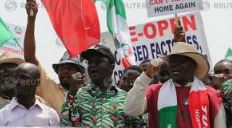 Addressing journalists in Osogbo, the leadership of the NLC said they will not go back into negotiation with the federal government on the implementation of new minimum wage.
They threatened that workers would embark on an industrial action if the minimum wage is not implemented.
Addressing journalists in Port Harcourt, the group said the judiciary should save Rivers State from what it described, as looming anarchy, by purging itself of corrupt judges.