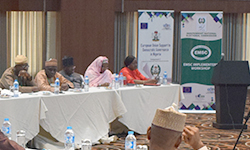 The Independent National Electoral Commission (INEC), has unveiled a fully equipped Election Monitoring and support centre that will monitor activities during the election, across polling units in the country.
INEC chairman, Professor Mahmood Yakubu took a visiting high powered delegation from the European union election monitoring team on a tour of the facility at the commission's headquarters in Abuja.
Professor Mahmood told the EU election observers that the commission is ready to deliver a credible, free and fair election next month.
The foreign delegation made up of representatives from the united states, Germany, France and the United kingdom called on security agencies to maintain neutrality during the polls.
Meanwhile, while inaugurating the election monitoring committee earlier, the INEC chairman urged its members to brace up for ensuring the success of the 2019 general elections.
He said the work of the committee was vital because of the need to constantly track planning mechanisms and activities put in place for the smooth conduct of the next General Elections.
Professor Mahmood said good planning was key for a good election, while proper monitoring of the plans put in place "will limit the areas of difficulty" during elections.
Yakubu said the Commission performed well in the Ibarapa East State Constituency bye-election held in Oyo State on June 2 due to proper planning and tracking.
He said: "Oyo bye-election was good. The processes were great and things went on smoothly."
Yakubu said for the 2019 general elections to be successful, the Commission also needed to constantly track all levels of its preparations to ensure that everything goes according to plan.
Yakubu implored the committee not to forget the two governorship elections holding in Ekiti State on July 14 and in Osun State on September 22.
He also reminded the committee members that the Commission still has about five bye-elections to conduct in five states, including Katsina, Taraba, Bauchi and Cross River.
He warned against complacency, saying he would be prepared to wield the big stick against any "sleeping member" of the committee.