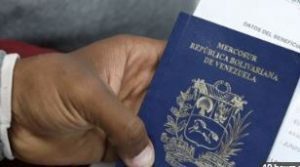 Ecuador is setting up new units to check Venezuelan immigrants' legal status and may tighten entry requirements after a Venezuelan man murdered his pregnant Ecuadorian girlfriend.
The killing in the northern city of Ibarra is the first reported murder perpetrated by a Venezuelan immigrant in Ecuador since hundreds of thousands have arrived there after fleeing an economic crisis in Venezuela.
The Ecuadorian President, Lenin Moreno said the government may create a new "special permit" for Venezuelans to enter the country.
He did not give further details about the units or how they will operate.
The Venezuelan man held his victim hostage on a busy street for about an hour on Saturday evening before stabbing her to death.