Mourners gathered at the United States neighborhood where a gunman attacked a synagogue and killed 11 persons.
A 97-year-old woman, two brothers and a couple in their 80s were among those killed at the Pittsburgh synagogue in what authorities says is the deadliest attack ever on the Jewish community.
Flowers were laid at a memorial outside the building by people.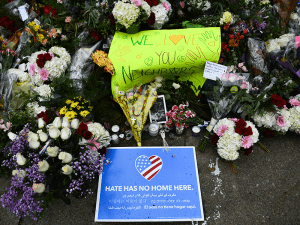 Advertisement

The suspected gunman was said to have stormed the building during a Saturday morning service and shouted about killing Jewish people as he attacked.
He has been charged with federal hate crimes and could face the death penalty.