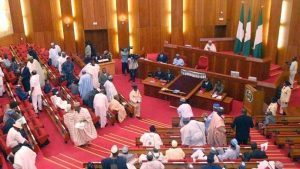 The National Assembly has on Tuesday received the report of its appropriation committees on the 2018 budget. The report was submitted at both Senate and House of Representatives.
The National Assembly had set an April 24 target for passage of the budget but failed. Laying and passage of the report had also been shifted several times. The budget has been held up at the National Assembly since November 7, 2017, when President Muhammadu Buhari presented the estimates to a joint session of the Senate and the House.
The National Assembly and the Executive had since engaged each other in a blame game over the delay in passing the budget.
Advertisement