Ekiti State Governor, Ayodele Fayose, said Fayemi's victory has only positioned him to suffer the worst defeat of his political career.
He said Fayemi has nothing to celebrate because the July the 14th election will only send him into political oblivion.
The outgoing governor in a post on his twitter handle @GovAyoFayose, thanked the All Progressives Congress for giving Ekiti people whom he described a candidate people love to vote against.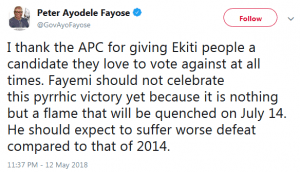 Fayose also said the victory has turned many of the party leaders and followers against him.