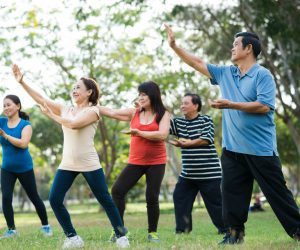 China has overtaken the United States (U.S.) in healthy life span for the first time since records began, according to World Health Organisation (WHO) data.
The figures show Chinese newborns in 2016 can expect 68.7 years of healthy life, compared with 68.5 years for American babies.
The world health body said American babies can still expect to live longer overall, dying at 78.5 years compared to China's 76.4. But during the last decade Americans are likely to suffer from ill health.
"The lost years of good health that are a factor in calculating healthy life expectancy at birth are lower for China, Japan, Korea and some other high income Asian countries than for high income 'Western' countries," said WHO spokeswoman Alison Clements-Hunt.
The U.S. was one of five nations, along with Somalia, Afghanistan, Georgia and Saint Vincent and the Grenadines, where healthy life spans beginning at birth fell in 2016, according to the WHO data, which was published in mid-May.
"Chinese life expectancy has increased substantially and is now higher than for some high-income countries," said Clements-Hunt.
She said the U.S. life span is decreasing, having peaked at 79 years in 2014, the first such reversal for many years.
The world's longest living people are the Japanese.
Babies born in Japan in 2016 were forecast to live for 84.2 years.