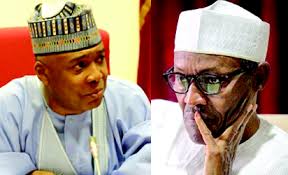 The National Assembly has kicked against President Muhammadu Buhari's approval of one billion dollars for purchase of equipment and fighting insurgency without seeking parliamentary approval. Senate President Bukola Saraki made this stand known at a retreat by Senate Correspondents on executive-legislature relations in Jos, Plateau state.
He pointed out that poor consultation with federal lawmakers has robbed the government of goodwill, budgetary and parliamentary approvals.
TVC News National Assembly Correspondent Sumner Sambo reports that the ongoing showdown over delayed 2018 budget passage, non-confirmation of certain executive nominees and release of $1bn (one billion dollars) for security without parliamentary consent are at the centre of discourse on dwindling relations between the executive and legislature.
Senate President Bukola Saraki took time to enlighten senate correspondents on why the National Assembly will not back down from opposing some decisions by the executive that continues to see lawmakers as irritants with little regard for their constitutional powers.
The approval of $1bn (one billion dollars) for security without consulting them is a particular sore point with the Federal Lawmakers.
Saraki countered the executive for thinking that the National Assembly would always pass their requests without scrutiny noting that engagement and collaboration is the way out of the logjam.
Discussants at the retreat seek a refocusing by the executive and legislature on developmental issues that lead to better welfare for Nigerians and infrastructural development.
The Senate Press Corps retreat ended with a call on both arms of government to work on collaboration first before bills or requests are sent to National Assembly for passage or approvals as Nigerians are tired of excuses and unnecessary arguments.