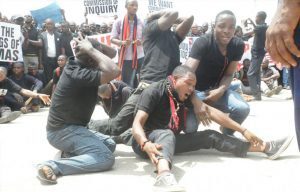 President Muhammadu Buhari has condemned the killing of worshippers and two priests at a Catholic Church in Benue State.
Buhari described the attack as vile, evil, satanic, and a calculated attempt to initiate religious conflict. He said the country under his leadership will not bow to the machinations of evildoers.
The President promised that the assailants would be hunted down and made to pay for the sacrilege committed.
The gunmen targeted Saint Ignatius Church in Mbalom village, which is not far from areas where there have been recent clashes between herdsmen and farmers.
There are reports of dozens of homes being set ablaze.
Several states across Nigeria are witnessing frequent outbreaks of violence and Nigeria's military and police appear overstretched.