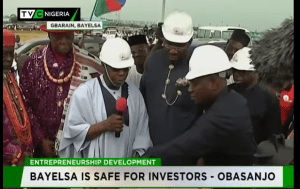 Former President Olusegun Obasanjo said the Seriake Dickson administration has created a safe environment for businesses to thrive in Bayelsa State. Obasanjo spoke to dignitaries who converged on Gbarain to witness the groundbreaking ceremony of Azikel Refinery.
Ovieteme George reports that people of Yenagoa Constituency two came out to welcome the former President Olusegun Obasanjo, Governor Seriake Dickson and dignitaries to the groundbreaking ceremony of Azikel Refinery in Gbarain.
Appreciating President Muhammadu Buhari for issuing the Licenses for the Petroleum Project and Power Generation, the Bayelsa Governor signed and presented the Certificates of Occupancy to the Group President Azibapu Eruani.
Ex President Olusegun Obasanjo is particularly happy with the Bayelsa Governor for creating a safe business environment.
Obasanjo performed the groundbreaking of the Azikel Petroleum Refinery to signal the commencement of the project.