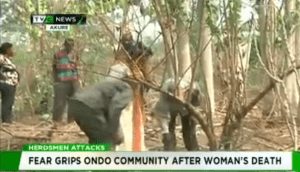 Many farmers and residents of Arodoye community in Akure South Local Government Area of Ondo State are living in palpable fear, following the invasion of their farms by herdsmen.
The herdsmen killed a middle-aged mother, Patience Salami, and destroyed several farms in the attack on the agrarian community.
TVC's Ayodeji Moradeyo reports that Arodoye is one of the many farm settlements along Igbatoro road in Akure South Local Government Area of Ondo State.
The invasion, which was carried out in the middle of the night, claimed the life of a middle-aged woman, Patience Salami.
Owners of farmlands in the area returned after the festivities to be confronted with the damages
done to their crops by the rampaging herdsmen and their cattle.
The fear of another attack has made many of them to abandon the settlement.
The State Governor, Rotimi Akeredolu at a function promised to look into the matter. And farmers want government to take proactive steps to prevent another attack on their lives and farmlands.