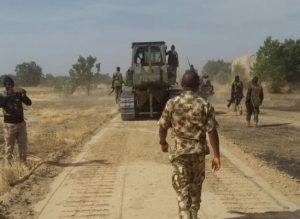 The Nigerian Army is set to embark on a road construction project in the Sambisa Forest as part of the ongoing clearance operation to dislodge remnants of Boko Haram insurgents.
The Director, Army Public Relations, Brig.-Gen. Sani Kukasheka, made the disclosure in a statement issued in Maiduguri.
Kukasheka said that the army had begun construction of access road to open the forest and link communities around.
He listed the projects as Gwoza-Yamtake-Bita-, Tokumbere-Sambisa and Gwoza-Yamtake-Bita roads.
The military authorities had earlier set up a military training facility in Sambisa Forest after dislodging the insurgents' tactical ground at Camp Zero.
Recall that the Army recently launched Operation Deep Punch in the Northeast to effectively dislodge the remnants of Boko Haram insurgents in the affected communities.