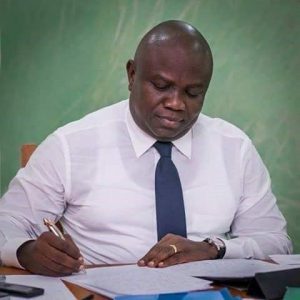 Lagos State Governor, Akinwunmi Ambode on Thursday carried out a major cabinet reshuffle, dropping three commissioners and appointing five new ones.
In a statement signed by the Secretary to the State Government, Tunji Bello, the three affected cabinet members are Adebimpe Akinsola, Femi Odubiyi and Anifowoshe Abiola.
The new commissioners are expected to be cleared by the State House of Assembly while the other redeployment and postings take immediate effect.
The newly appointed cabinet members include Hakeem Fahm (Ministry of Science and Technology); Ladi Lawanson (Ministry of Transportation); Segun Banjo (Ministry of Economic Planning and Budget); Mrs. Olayinka Oladunjoye (Ministry of Commerce and Industry) and Hakeem Sulaiman (Communities and Communications).
Advertisement

The Statement added that major redeployments have also been effected.
 Rotimi Ogunleye from Commerce and Industry to Physical Planning and Urban Development; Steve Ayorinde from Ministry of Information and Strategy to Ministry of Tourism, Arts and Culture, Kehinde Bamigbetan from Communities and Communication to Ministry of Information and Strategy; Babatunde Durosinmi Etti from Ministry of Wealth Creation to Ministry of the Environment; Mrs. Uzamat Akinbile-Yusuf from Ministry of Youth and Social Development to Ministry of Wealth Creation; Agboola Dabiri from Central Business District to Ministry of Youth and Social Development.
Others include Dr. Samuel Adejare from Ministry of the Environment to Ministry of Waterfront Infrastructure Development; Engr. Ade Akinsanya from Ministry of Waterfront Infrastructure Development to Ministry of Works and Infrastructure.
In the same vein, the statement also added that Benjamin Olabinjo has been moved from Special Adviser Commerce and Industry to become Special Adviser Civic Engagement, while Kehinde Joseph moved from Special Adviser Civic Engagement to become Special Adviser Housing.
Deji Tinubu, Special Adviser Sports has been redeployed as Special Adviser to the Governor on Commerce and Industry and Anofiu Elegushi moves from Special Adviser Transport to become Special Adviser, Central Business District.
Bello says the new appointments and redeployments are intended to create a new vigour and vitality for service delivery.