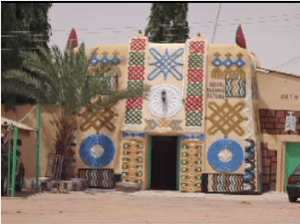 Nigerian Institute of Architects said the country need to have policies that incorporate traditional architecture, into formal learning, so as to cause a cultural renaissance.
National president of the Institute disclosed this in Katsina State, where he led the leadership of the body, to confer honours on a notable traditional architect.
TVC News Katsina Correspondent, Awwal Ibrahim reports that the Sarkin Zanen Katsina, Kabir Idris is one of Nigeria's finest traditional architects with works that have been appreciated in different parts of the world. He specializes in Arabic calligraphy.
The Nigerian Institute of Architects led by its National President, Tonye Braide was in Katsina to honour Idris with an investiture as a Honorary Fellow.
The architects pleaded with the Katsina state government to support a special project to catalogue the works of Sarkin Zane Idris which will then be showcased around the world through a travelling exhibition that will boost investments on the rich cultural heritage of Katsina.
The Sarkin Zanen Katsina felt elated on this rare honour while calling on fellow traditional architects to modernize their talents.
The Katsina state government later charged the professional architects to explore and adopt the use of locally sourced materials for modern architecture.
Chairman of the Katsina state Chapter of the association expressed appreciation for the honour and says in the near future there would be more fellows from the chapter.