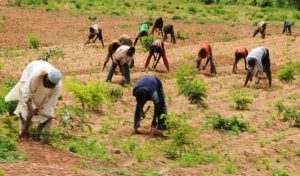 Minister for Agriculture, Audu Ogbeh says the Federal Government has laid down modalities that would ensure farmers have access to adequate early germinating seeds in the country.
The move according to him will improve Agricultural practices in the country.
The Agric Minister spoke in Kano. He says herdsmen would also be supported for the provision of healthy milk and meat for the improvement of  the country's economy.
On his part, Kano State Governor, Abdullahi Ganduje says his administration has produced tomato seeds to be distributed free to the farmers inline with his Government's efforts of improving the lives of farmers in the state.
Advertisement

He added that No less than N150M has been provided to wheat farmers to purchase seeds for the 2015/2016 farming season.