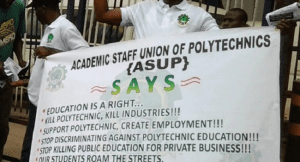 Hundreds of students of the Rufus Giwa Polytechnic, Owo (RUGIPO) in Ondo State, have protested against the decision of their lecturers to join the ongoing strike by Academic Staff Union of Polytechnics (ASUP).
The students, who barricaded the main gate of the institution, issued a three-day warning to the lecturers to return to duty or face mass protest.
For an institution that had been on strike severally this year, the students kicked against the latest move by their lecturers.
The placards in their hands simply tell the story.
They gave their teachers three days to return to the classroom or face their wrath. But the lecturers are not moved by the students' threat.
The institution's chairman of ASUP, Rafiu Ijawoye, said the union must obey the directive from its national headquarters.
Incessant strikes by lecturers at the Rufus Giwa Polytechnic, Owo, have crippled the academic calendar of the institution.