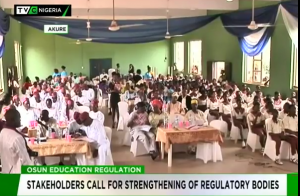 Education stakeholders have called for the rejuvenation and strengthening of supervisory and regulatory bodies for primary and secondary education in Nigeria.
The stakeholders spoke at a symposium tagged "Renaissance of Quality Education- Stakeholders Perspective, which held at St. John Grammer School, Ile-ife, Osun state.
They agreed that the kind of education and training at primary and secondary levels require holistic overhauling by adopting 21st century methods.
They also recommended introduction of periodic accreditation and certification system similar to what obtains in post secondary institutions to be replicated at both primary and secondary levels.
Advertisement

While acknowledging the fact that government cannot do it all, the speakers want all stakeholders to play their respective role to ensure that the standard and quality of education does not nosedive.