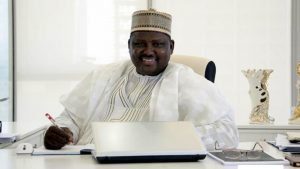 The Senate has mandated its committees on establishment, interior, anti-corruption and judiciary to investigate how ex-pension boss Abdulrasheed Maina returned to the federal civil service and got promoted after being declared wanted by the Economic and Financial Crimes Commission, EFCC.
The motion was sponsored by Senator Hamma Misau on the need for the Senate to urgently investigate the misnomer in the federal civil service by identifying all those civil servants and political appointees who breached procedures to not only bring back Maina but also to promote and post him to the Ministry of Interior.
Senate President Bukola Saraki urged the committees to vigorously investigate the allegations against all public officials involved in the case but did not give a timeline by which the committee must conclude its report.