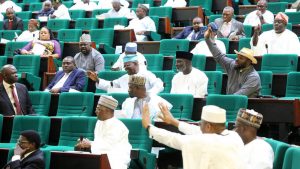 The House Of Representatives has mandated the Central Bank Of Nigeria to report to the House and explain how the salary Bailout funds to Kogi state were utilized.
This is coming as the House notes the alleged suicide committed by a director in the Kogi state civil service commission.
The House also directed its ad-hoc committee on bailout funds, which is yet to submit its report, to expedite action on it and investigate the payment of salaries in Kogi State.
While debating the motion entitled "Urgent need to save the people of Kogi State," honourable Sunday Karimi said the parliament has authority to query the bailout funds disbursement and utilisation.
Karimi added that the condition and situation of Edward Soje, said to have been owed eleven months' salary and reported to have committed suicide owing to the fact that he could not meet his obligations as a husband, especially when his wife had delivered triplet last week, is the lot of majority of the Kogi State civil servants both at the state and local councils.
He said: "If something is not done immediately, many more suicides will be committed by the frustrated civil servants." Also, Nkiruka Onyejeocha (PDP, Abia), among others, questioned the conscience of our leaders.
According to her, the state governments have not been able to utilise the bailout funds earlier collected yet they are seeking for another from the Federal Government.
The house unanimously agreed that there is need to query the disbursement of the salary bailout which is funded by the public finances of the federal government.