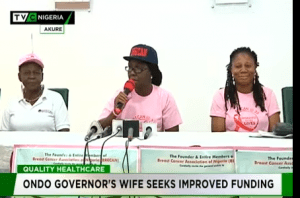 The Federal Government has been advised to invest heavily in the health sector to ensure that Nigerians have access to adequate medical services in the country.
Wife of Ondo state Governor, Betty Anyanwu- Akeredolu gave the advice at a news
conference ahead of the Breast Cancer Association of Nigeria's 20th anniversary.
Mrs Akeredolu noted how sad it is that many Nigerians now seek medical assistance in countries like India and south Africa.
She believes that breast cancer should not be a death sentence for women.