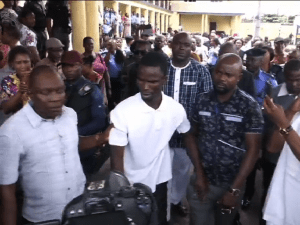 Suspected ritualist, Ifeanyi Dike has been brought back to Rivers state after his re-arrest in Jos.
Dike, an undergraduate of the University of Port Harcourt had been on the run after he escaped from police custody on August 24th after allegedly raping and killing his eight-year-old girl cousin.
Surrounded by security officials and onlookers, a limping Dike slowly made his way into the Rivers Police command.
Commissioner of Police, Zaki Ahmed vows Rivers will be unsafe for criminal elements to thrive.