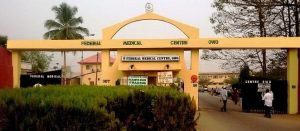 The National Association of Resident Doctors at the Federal Medical Centre, Owo in Ondo State, have staged a protest to demand payment of shortfall in their 2016 salary, amounting to 280 million naira.
Brandishing relevant documents and placards to prove their point, the doctors said the protest will continue, until the payments are made.
Led by President of the National Association of Resident Doctors, FMC, Owo branch, Kunle Fakorede, the medical experts accused the management of misappropriating the fund.
But the management has absolved itself of any wrong doing.
Spokesman of the institution, Olagoke Omolade says the Acting Medical Director, Liasu Ahmed is not guilty of the doctors accusations.
But the doctors insisted that the money has been diverted to other use by the management.
Omolade wants the doctors to be patient, as the issue is being addressed by the Federal Government.
The protest comes just one week after resident doctors suspended their nationwide strike, over similar issues bordering on payment of salary arrears.