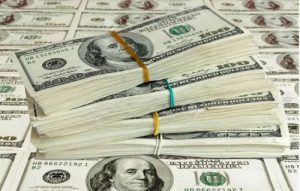 Nigeria's foreign exchange reserves stood at a two and a half-year high of $31.59 billion as of Aug. 18, central bank data showed on Thursday.
Nigeria's dollar reserves have climbed back to a level they last reached in January 2015, the data showed, shortly before general elections in Africa's biggest economy.
The bank did not provide a reason for the increase in reserves.
Nigerian assets, largely shunned by foreign investors over the past three years, have attracted significant amounts of capital after the central bank in April liberalised the exchange rate for investors.
Advertisement

Nigeria's forex buffer stood at $25.73 billion, up 20.77 percent from a year ago, but is still far off a peak of $64 billion hit in August 2008.