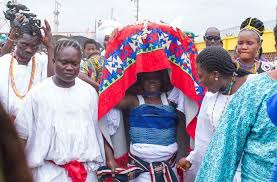 The grand finale of the 2017 edition of the Osun festival has held in Osogbo, the Osun state capital.
This is just as the Ooni of Ife, Oba Adeyeye Ogunwusi has called for the development of African cultural and traditional heritage in order to liberate the continent from economic slavery.
Correspondent Ibrahim Alege reports that Osun is not only celebrated in Osogbo. For instance, in Ile Ife, the cradle of the Yoruba race, Osun is celebrated at Ita Osun which is said to be source of Osun water before flowing to Igede Ekiti and now Osogbo.
The votary maid is the symbol of the grand finale of the festival held in Osogbo and her sight elicits prayers from devotees.
As a cultural and religious festival, Osun Osogbo means different things to different people
Osun state derived its name from river Osun and the state government says it will continue to promote it.
Osun Osogbo grove was enlisted as a UNESCO world heritage site in 2005 because of the preservation of its natural forest.