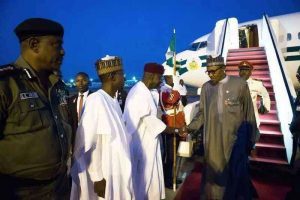 President Muhammadu Buhari will return to the country later on Saturday (today), after receiving medical attention in London.
The President had left the country on May 7, this year, after handing over power to Vice President Yemi Osinbajo, who has functioned as Acting President since then.
According to a statement by the Presidential Special Adviser on Media and Publicity, President Buhari is expected to speak to Nigerians in a broadcast by 7 a.m on Monday, August 21, 2017.
He thanks all Nigerians who have prayed ceaselessly for his recovery and well-being since the beginning of the health challenge.
Advertisement