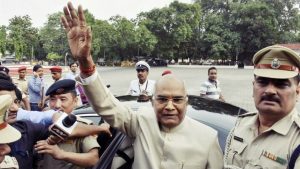 Ram Nath Kovind has been sworn in as the 14th President of India in New Delhi on Tuesday in a ceremony that tightens the government's hold on positions of power.
The 71-year-old low-caste politician backed by the ruling Hindu nationalist-led coalition easily won the presidential election last Thursday.
He is from the Dalit community – the lowest of India's centuries old caste hierarchy – and beat the Congress party's Meira Kumar, also a Dalit, by an overwhelming majority.
India's constitution provides a largely ceremonial role for the president, with the prime minister and his cabinet holding executive power.
But the president has a key role during political crises, such as when a general election is inconclusive, by deciding which party is in the best position to form a government.