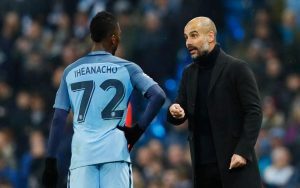 Manchester City want a buy-back option on striker Kelechi Iheanacho, the Nigeria international who has become a target for West Ham and Leicester City and has attracted interest across the Premier League this summer.
The 20-year-old is to be made available as Pep Guardiola changes his squad but City are insisting on the buy-back clause in order to cover themselves in the event that they want Iheanacho back.
He is valued at around 25 million pounds and his buy-back clause will be worth at least another 10 million on top of that sum to the club that signs him.