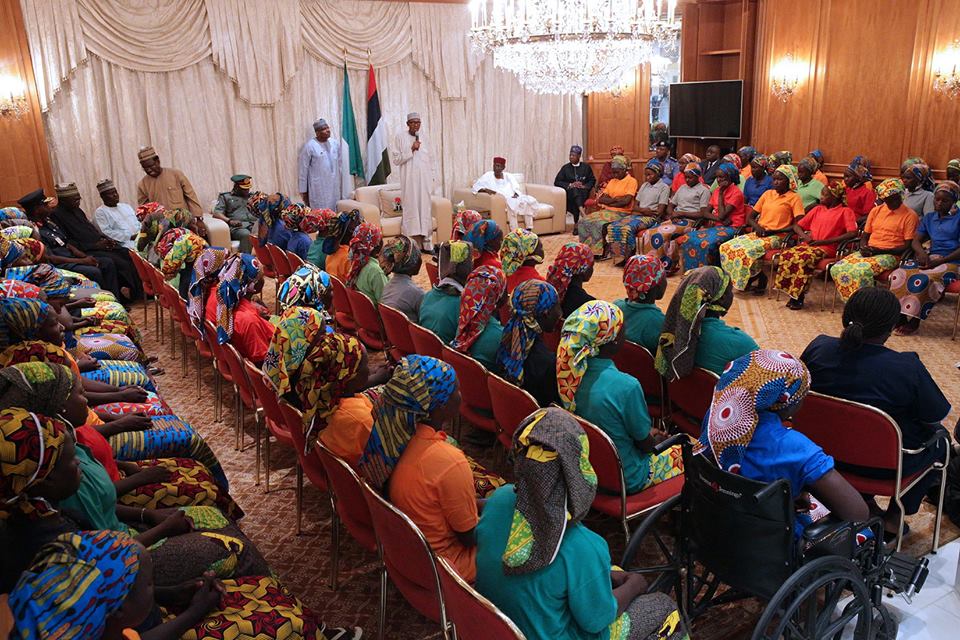 President Muhammadu Buhari has described the release of 82 Chibok school girls as a pleasant second anniversary gift to Nigerians.
Buhari received the newly rescued 82 Chibok girls behind closed doors at his official residence in the Presidential Villa, Abuja on Sunday.
The two white Nigerian Army buses conveying the girls arrived at the President's residence gate around 7:06 p.m
The buses were with window blinds that made it impossible to see the faces of the girls. Minister of Women Affairs Aisha Alhassan arrived with the girls.
State House correspondents were not allowed to have access to the venue.
Only Nigeria Television Authority (NTA) cameraman and the President's personal photographer, Bayo Omoboriowo, were allowed in .
Meanwhile, minister of Information and Culture Lai Mohammed said the media was not barred but the restriction was an attempt "to control the narrative".
According to him, only NTA, VON and FRCN were allowed into the venue.
Buhari expressed delight over the release of the girls and reassured Nigerians, especially relatives and friends of the determination of his administration to secure freedom for the remaining girls and other Nigerians still under the insurgents captivity.
"I cannot express in a few words how happy I am to welcome our dear girls back to freedom. On behalf of all Nigerians, I will like to share my joy with you, your parents, your relatives, friends and the Government of Borno State on regaining your freedom.
"Let me reassure Nigerians, especially relatives and friends of the remaining girls that the Federal Government will spare no effort to see that they and all other Nigerians who have been abducted safely regain their freedom.''
He said the Presidency would supervise the performance of those entrusted with their welfare.
He said: "No human being should go through this kind of ordeal.''
The President directed security agencies and state governments to continue to provide special protection to educational institutions in remote areas.
According to him, the Federal Government is resolutely determined to safeguard the security of all Nigerians at all times.