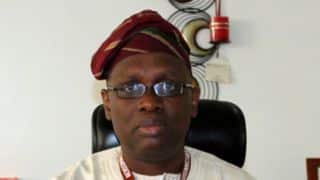 The national leader of the All Progressives Congress (APC), Asiwaju Bola Tinubu on Saturday eulogised the late Director-General, Development Agenda for Western Nigeria (DAWN), Dipo Famakinwa, saying that he contributed much to the economic integration of South-West states.
Tinubu in a condolence message in Lagos, said that Famakinwa's death was a blow to the regional integration efforts.
Famakinwa died on Friday morning at the age of 51.
"The death of Dipo Famakinwa left me distraught. Leaving us at such a young age of 51 is unpleasant, but his was an eventful life. He lived a life of mission.
"He pursued that mission with vigour.
"Dipo was a partner, soul mate, fellow advocate and foot-soldier for economic integration of the states in the South-West Geopolitical Zone for the development of the region.
"He breathed life into that economic integration initiative. He was busy arranging the building blocks for the realisation of that ideal.
"He set a huge task for himself at DAWN and was working on this with all his energy. I learnt that he had to be forced recently to take a short leave after working ceaselessly over the years at DAWN," he said.
According to Tinubu, the Yoruba race has lost a strategist and an organiser.
"His death is a loss not only to his family, the DAWN Commission and Yoruba race, but also to Nigeria.
"The academic world also lost because Dipo was very cerebral and serious-minded.
"What we must all do across the South-West is to ensure that the idea of regional economic integration he worked and died for does not die with him.
"It should be pursued with more drive and force. That is what we must do for him.''
He commiserated with the deceased's family members, and prayed that God would give them the strength to bear his death,
"I mourn with his relations and friends; I mourn with the entire Yoruba race, " he added.