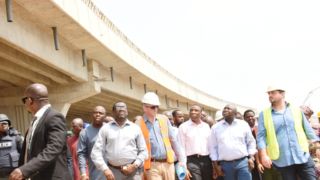 Lagos state Governor, Akinwunmi Ambode has called the state of the road leading to the Murtala Mohammed international Airport as a "National Embarrassment".
He disclosed that money for the reconstruction of the Airport road has already been appropriated in the 2017 budget.
The Governor put the blame on the doorstep of the Federal Ministry of works, Power and Housing for obstructing the state government's plan to construct a 10-lane road connecting Oshodi to the International Airport.
Meanwhile, Governor Ambode says everyone displaced will be fully compensated within the next four weeks.
He says the projects will be inaugurated as part of activities that will herald the Lagos at 50 celebration.
The Governor expressed his satisfaction with the performance of the contractors and he believes the projects will improve the economy of inner cities within the lagos metropolis.