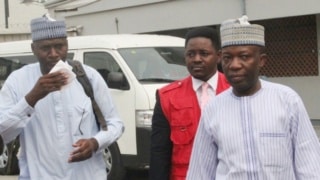 The trial of senior advocate of Nigeria, Dele Belgore could not continue today as the prosecuting witness failed to make it to the court at the appointed time.
Counsel to the EFCC, Nkiruwe Anana pleaded with the Judge to stand down the case till 12 noon to give the witness who was on his way from Ekiti state ample time to make it to the court.
But the defence lawyer, Sofunde Ebun objected to the application citing that he had a case at midday and urged the court to adjourn.
On February the 8th,they were arraigned on a five count charge bordering on money laundering to which they pleaded not guilty and subsequently got bail on self recognition.
Judge Alkawa then adjourned the matter till March the 13th and 14th.