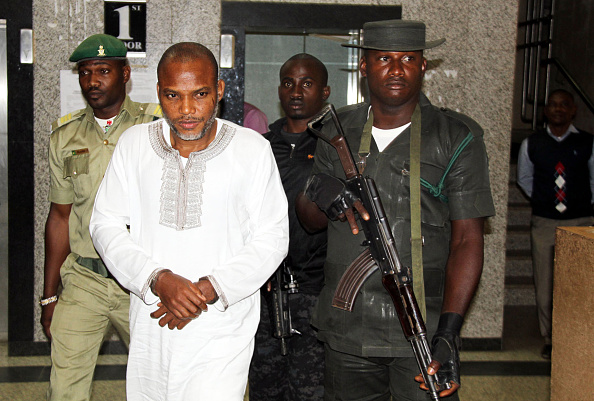 Justice Binta Nyako of the Federal High Court, Abuja, would on the tenth of February, rule on the application filed by the leader of the Indigenous People of Biafra, Nnamdi Kanu, challenging the competence of the charges before the court.
Kanu and three others, are asking the court to quash the six count charge of treasonable felony, and mismanagement of an unlawful society, amongst others.
It's another day in court for the leader of the indigenous people of Biafra, Nnamdi Kanu and his supporters.
The presence of security operatives, has become a ?usual sight, within and around the court premises.
Inside the courtroom, counsel to Nnamdi Kanu, Ifeanyi Ejiofor, argued that his client was a freedom fighter, and the fight for self determination, is a right provided by article 20 of the United Nations charter, which cannot be taken away.
He added that the claim by the prosecution that his client defamed President Muhammadu Buhari, cannot stand, in view of the fact that he had not been inaugurated as at April 2015.
Ejiofor further told the court that there was no date when the offence was committed.
He concluded that the Proof of evidence of the prosecution, does not support the charges and subsequently, asked the court to quash the charges.
Counsel for the federal government, Shuaibu Labaran, asked the court to refute the defense's application on the ground that it had no substance, asking the court to place cognisance on Section 396 of the ACJA.
Justice Binta Nyako subsequently adjourned the case to tenth of February, for ruling.