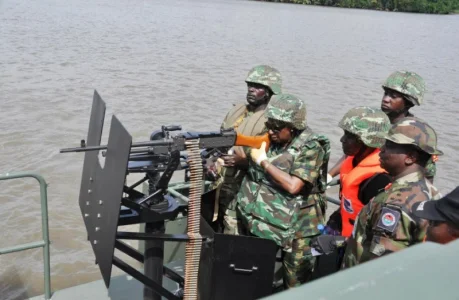 NNS Soroh, an outfit of the Nigerian Navy stationed in Bayelsa State says it has raided militant camps and destroyed illegal refineries to rid the riverine areas of criminals sabotaging the country's economy.
Addressing journalists after kick-starting the first phase of its annual Chief of Naval Staff Sea Inspection programme codenamed "Exercise Eagle Eye", the commander NNS Soroh, Commodore Habib Usman says the objective of the exercise is to assess the operational capability of his men.
Mental alertness and physical preparedness are part of the professional work ethic of the men of the NNS Soroh traversing the creeks of Bayelsa State in search of pipeline vandals, illegal refineries, crude oil thieves and perpetrators of sundry Maritime crime.
At the Forward Operating Base, FORMOSO Egwe-Ama, its commander, Captain Mayowa Olukoya also prepared his men for the midnight raid by the "Exercise Eagle Eye".
The men returned in the morning with their catch – four suspected sea pirates.