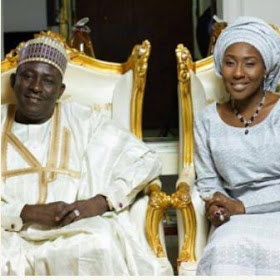 All roads leads to Daura today, where the daughter of President Muhammadu Buhari, Fatima, is set to wed the former managing director of the Federal Mortgage Bank of Nigeria, Malam Gimba Yau Kumo.
A dinner in honour of the couple is scheduled to hold in Abuja tomorrow.
Although, the venue is yet to been disclosed.
The invite card for the wedding sprung up online during the week.
The couple is set to be married later today after the traditional prayer at the president's residence at Mai Aduwa GRA Daura, Katsina.
The vice president, Prof. Yemi Osinbajo, is expected to lead a high-powered government delegation made up of ministers, governors and other political appointees to grace the ceremony.
Hajiya Fatima Buhari, who is the second daughter of President Buhari, is one of the children from his first wife, Safinatu, who died long after she was divorced from him in 1988.
Fatima, who is 38 years old, was previously married to a traditional in Katsina, with him she had six children. She  died on 14th January, 2006 at the age of 53 after she was diagnosed with diabetes mellitus in 1998.
Safinatu married Buhari in 1971 at the age of 18.
Born December 11,1952, she was of Fulani ancestry, tracing her roots several generations back to late Shehu Usman Danfodio, the leader of the 18th century jihad that led to the enthronement of Sharia in the North.
Late Safinatu, the bride's mother, was born in Jos, Plateau State to the family of the late Alhaji Yusuf Mani and the late Hajia Hadiza Mani on the 11th of December, 1952.
While growing up, she attended Tudun Wada Primary School in Kaduna from 1959-1960 and later the Nasarawa Primary School, Katsina (now Dikko Memorial Primary School).
Afterwards she went to  Women Teachers' College in Katsina where she bagged her Grade II Teachers Certificate in 1971.
She married Gen Buhari just two days after her graduation from college at the age of 18 The marriage produced five children: Zulaiha (late), Fatima, Musa (late), Hadiza and Safinatu Buhari.
The groom an indigene of Gombe in Gombe State, Kumo was born on the November 5, 1959.
A graduate and Masters Degree holder in Business Administration from Ahmadu Bello University, Zaria and Abubakar Tafawa Balewa University, Bauchi respectively, Kumo was the managing director and chief executive officer of the Federal Mortgage Bank of Nigeria.